V120SG
90 Bottle Single-Zone Wine Cabinet
Vintec 'Classic Black' 90 Bottle Single Zone for cellaring both reds and whites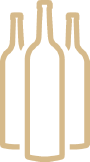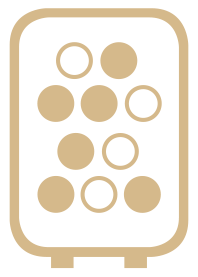 Single Zone
finish
Painted Black Aluminium
The Vintec 5 Pillars of Wine Storage
Vintec wine cabinets recreate the ideal conditions to protect wine for the short or long-term, by strictly adhering to the Vintec 5 Pillars of Wine Storage.
Stable Temperature
High Humidity
UV-proof dark storage area
Vibration-proof environment
Quality Airflow
Scandinavian Design
Vintec products are designed in Denmark and Sweden, with sustainably-sourced premium white oak shelves, fingerprint-proof acid-etched and edge-to-edge glass doors, no protruding handles, minimal touch control panels, signature red bumpers on shelves, and diffused LED lighting throughout.
Stable Temperature
Our wine cabinets maintain a stable temperature to keep your wine in perfect cellaring conditions. This is thanks to the Double Glazed, UV Treated, insulated side panels and interactions between a compressor and thermostat.
Humidity above 50%
Our wine cabinets incorporate a Thermal Recycling Pump that ensures adequate humidity levels are maintained. The Thermal Recycling Pump works by heating condensed water, which is then introduced as humid air within the cabinet.
UV Protected Dark Storage Area
UV rays negatively impact the quality of your wine. Our cabinets eliminate this threat by incorporating UV treated tinted glass doors or solid doors, dark interiors and dimmed internal LED lights.
Vibration Reduction System
To protect the storage life and quality of your wine, our cabinets have been designed to create a vibration proof environment by including an externally housed compressor, rubber shock absorbers and vibration absorbing wooden shelves.
Quality Air Flow
Our cabinets include internal and external fans to ensure there is a slow reticulated air flow throughout the cabinet

Humidity recycling system

Security lock

Energy Efficient R600a Gas

Winter function for cold climates
The Vintec Full Experience


Elevate your wine experience
The Vintec Club is a private club for owners of Vintec cellars.
The club is fully focused on providing educational content, exclusive benefits and unique wine experiences to enrich and support our members along their wine journeys, while connecting them with other like-minded people.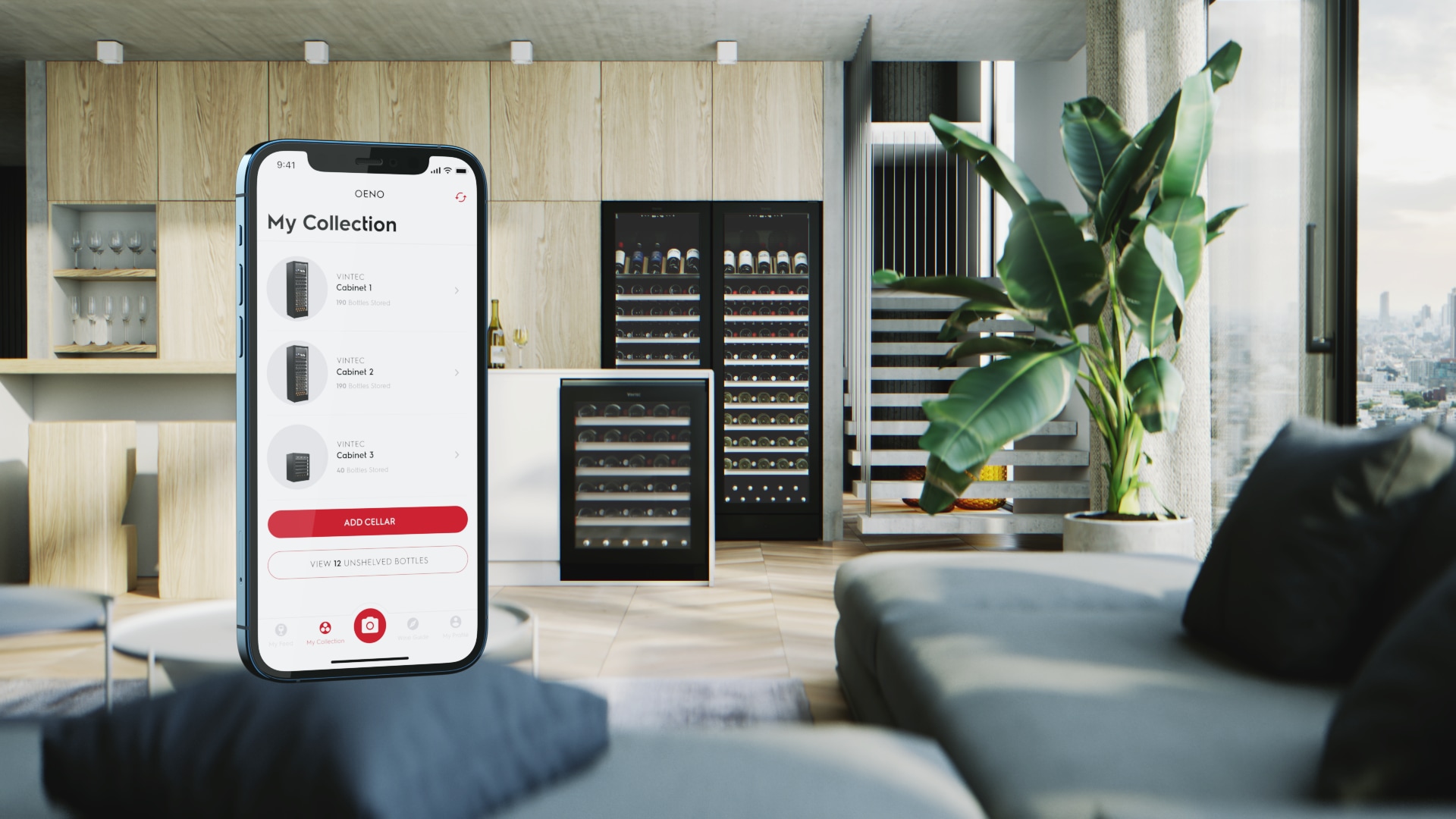 OENO by Vintec App
OENO by Vintec is our virtual cellar management app and personal sommelier developped by Vintec and powered by Vivino.
With OENO, wine lovers can effortlessly keep track of which wines they have, where they are located in their cellar(s) and know how to enjoy them at their best.
Let us show you how we protect your wine.
Vintec Wine Cabinets' maximum capacity are expressed in standard bordeaux-shapped bottles. Since most collections are composed of a wide range of bottle shapes and sizes, follow the principles below to best utilize the space inside your cellar
Neck-to-neck placement
Complementary shapes
Stacking for cellaring
Stacking for accessibility
*Shelf illustration depicts a generic shelf as layouts vary depending on the product model. Nonetheless, same principles for storing and stacking apply to all Vintec products.
If your wine cabinet has flexible shelving, reducing the number of shelves and stacking bottles will increase the capacity of your wine cabinet.
Specifications
PRODUCT PROFILE
Main Function

Cellar Red & White

Alternate Function

Serve White or Red

No of Zones

1

Temperature Range Zone 1 (deg)

6 - 16

Door Construction

Double Glazed, UV Treated

Installation Type

Slot-in

Product Installation

Built-In or Freestanding

Easy Capacity (Bottles)

60

Max Capacity (Bottles)

90

Handle

Painted Black Aluminium

Door Type

Glass Door

Finish

Painted Black Aluminium
DIMENSIONS & WEIGHT
Height (mm)

1550

Width (mm)

595

Depth (mm)

595

Depth Door Open (mm)

1140

Air space above cabinet (mm)

90

Air space at sides (mm)

35

Rear Spacer (mm)

30
Accessories
4055598397
Vintec Wooden Storage/Fixed Shelf - for V120/160 GET THE LATEST ON VINTEC & MORE