In March 2013, Vintec was approached to design and supply optimal climate-controlled wine storage for the highly-anticipated Dan Murphy's Double Bay store set to open in June of that year.
The challenge was to configure a cost-effective wine storage solution across three designated areas of the store with a quick turn-around: one bank of cellars for fine red and white wines, one bank for Champagne and one bank solely for Penfolds Grange.
Design
This store was designed to be unlike any other, offering such a large and unique range of wines, Champagne, spirits and beers that one can only think of it as a temple dedicated to every alcoholic beverage ever invented. Indeed, the most fascinating part of the design phase was the dedication of specific product areas - over 650 whiskies, hundreds of beers, aged wines, international wines and Champagne.
In addition to the extensive range of rare Champagnes, the real standout attraction of the store was to be a full vertical of 57 vintages of Penfolds Grange, starting with the inaugural 1951, with a combined value of $330,000 (including the Vintec wine cabinets to accommodate them).
Equipment Selection
16 x Vintec 'Noir' 170 Bottle Single/Multi-Zone Wine Cabinets (V190SG2E-BK)
Specially designed wooden shelves for laying bottles with labels facing and parallel to a glass door
To store and display in a dynamic way this impressive range of prestigious Australian and international wines, Vintec selected and proposed the use of 16 climate-controlled cabinets from the latest 'Noir' borderless black glass range - configured with specially designed wooden shelves to lay bottles with labels facing and parallel to the glass doors to optimise visibility and accessibility.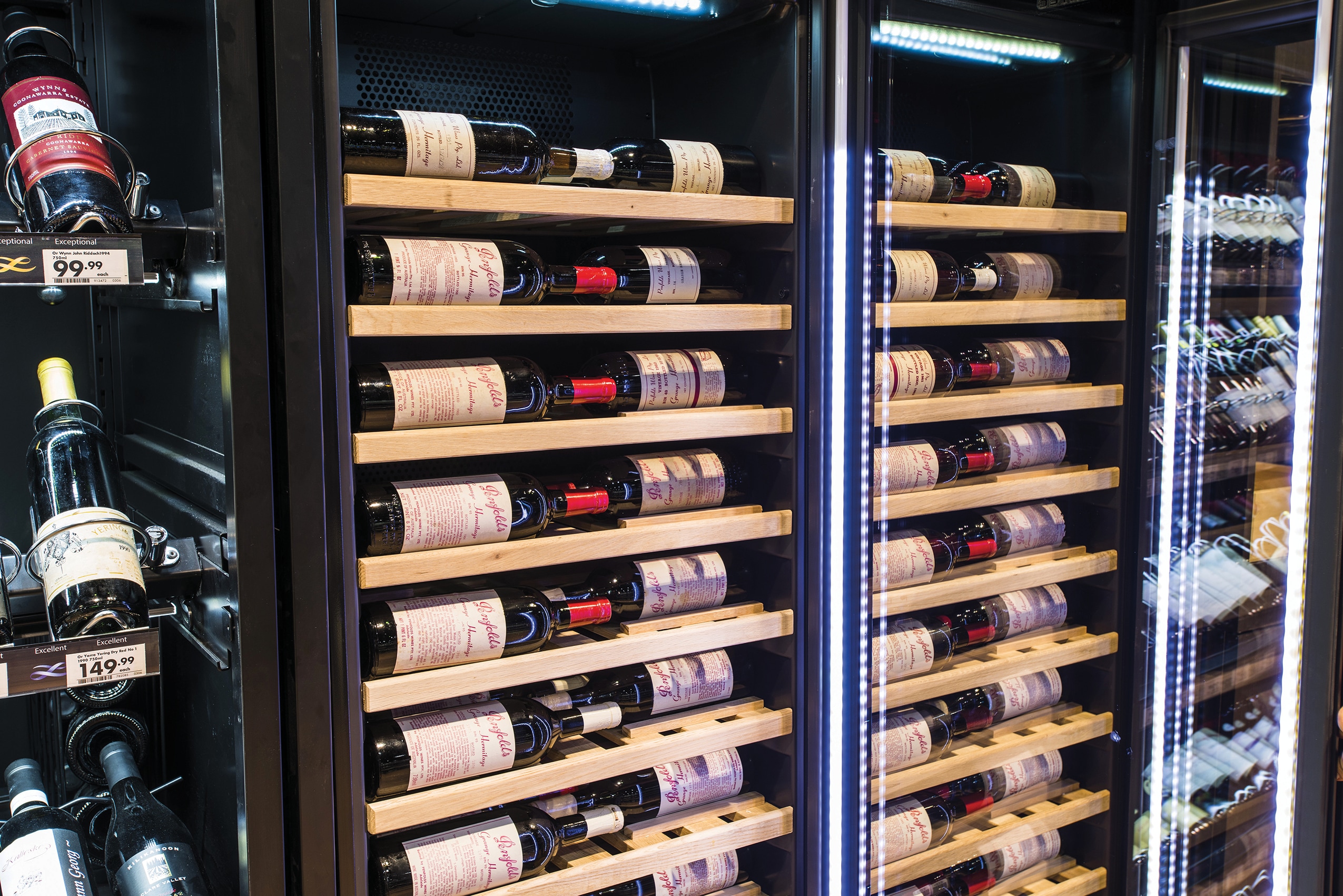 The choice was based on the following:
Can be set at a constant temperature of 12°-14°;
Have no bright lights (LED does not generate any damaging UV light) and the treated glass doors also limit any outside light from reaching the bottles;
Have an anti-vibration system (wooden shelves reduce movement and a slow-cycling compressor is housed outside the unit on rubber shock-pads);
Maintain humidity levels, keeping the corks moist so as not to dry out;
All cabinets are equipped with a lock and the possibility to switch the internal LEDs on and off, based on opening hours.