The Vintec cabinets featured in this build are:
3 x 198-Bottle Multi-Temp (or Single Zone) Wine Cabinets (Model V190SG2E-BK)
1 x 35-Bottle Single Zone Wine Cabinet (Model VWS035SBB).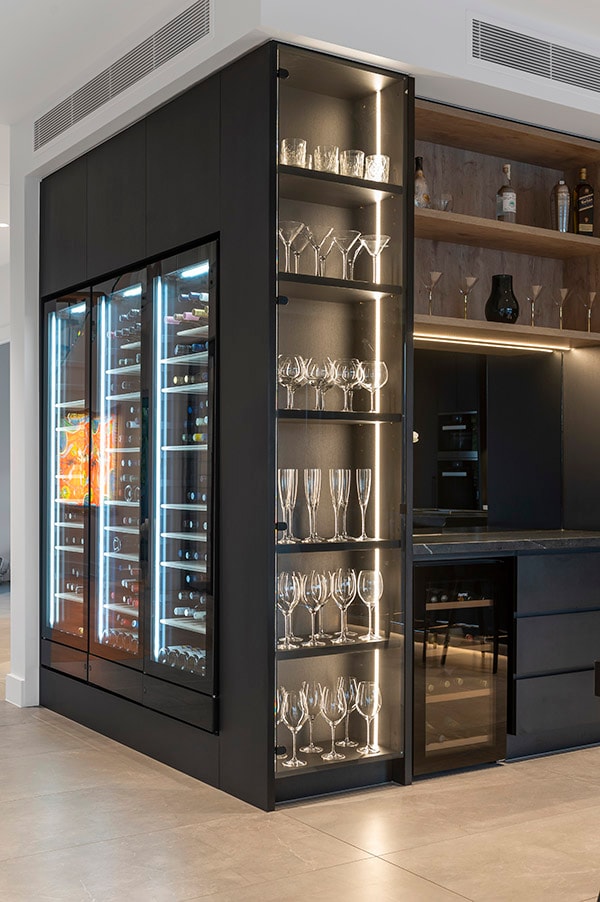 During the design stage, the Client was originally looking for a fully refrigerated wine room, equipped with both humidity and temperature controls to preserve their precious red and white wine collections. However, once the team at DB Build communicated the features and benefits of the Vintec cabinet ranges on offer, the Client embraced the need for two different types of Vintec cabinets.
One being the V190SG2E-BK tall model which allowed for temperature-controlled storing of the Client's red wine collection. The second underbench model VWS035SBB, looked after the Client's white wines with a cooler serving temperature. The combination of both cabinets was not only within construction budget but ensured maintenance and electricity costs were kept to a minimum, combined with maximum wine bottle storage the Client required (spanning over 500 bottles).
The elegant borderless black glass finish of each cabinet fits in seamlessly with the premium look and feel of the entire space. The compressor in each is quiet and energy efficient, slowly, and gently cooling with greater temperature control. Built with rubber shock absorbers, it minimises vibration transmission, so that wines are stored in a calm environment, protected from vibrations, where they can mature steadily.
The Vintec Tall cabinets showcased here also include the following features :
Energy-efficient, UV-free LED lighting, which provides great visibility of wine collections while keeping them safe from damaging UV-light.
Unique, flexible shelving, which offer the possibility to store bottles horizontally and neck-to-neck (thanks to specially designed grooves), or, the ability of storing bottles upright in 'Hospitality mode' for greater visibility and accessibility due to their flat surface.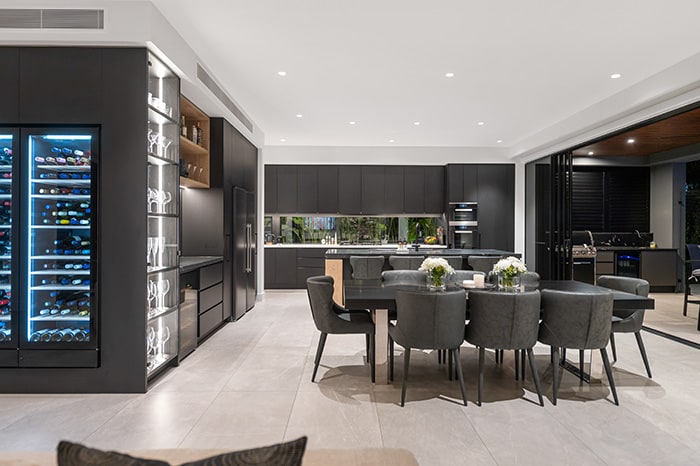 Project Team
Builder & Project Manager : DB Build
Project Architect, Concept Design & Finishes : Vanguard Building Design / DB Build
Project Design, Development & Documentation : DB Build / Tailored Space Interiors
Engineer : Westera Partners
Civil Engineer : Knobel Consulting
Cabinetry : Custom Kitchens
For more information on the above Vintec wine cabinets, please click below:
198-Bottle Multi-Temp or Single Zone Wine Cabinet | Vintec Australia
35-Bottle Single Zone Wine Cabinet | Vintec Australia
Credit : Daniel Boots, DB Build