198 Bottle Single/Multi-Temp Wine Cabinet
AL-V190SG2E
198 Bottle Single/Multi-Temp Wine Cabinet
AL-V190SG2E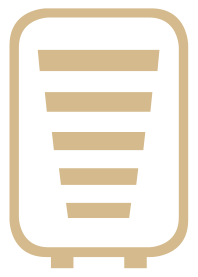 Multi Temp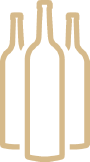 Versatile wine cabinet that can be set as a single zone for cellaring both reds and whites or as muli-temp for serving different styles/varietals at perfect drinking temperatures.
Single/Multi-Temp
Vintec versatile Multi-Temp technology is designed for serving different varietals at their perfect individual drinking temperatures. It provides a gradient of temperature throughout the cabinet, which is ideal for keeping all wine styles at their optimal drinking temperature.
Stable Temperature
Our wine cabinets maintain a stable temperature to keep your wine in perfect cellaring conditions. This is thanks to the Double Glazed, UV Treated, insulated side panels and interactions between a compressor and thermostat.
Humidity above 50%
Our wine cabinets incorporate a Thermal Recycling Pump that ensures adequate humidity levels are maintained. The Thermal Recycling Pump works by heating condensed water, which is then introduced as humid air within the cabinet.
UV Protected Dark Storage Area
UV rays negatively impact the quality of your wine. Our cabinets eliminate this threat by incorporating UV treated tinted glass doors or solid doors, dark interiors and dimmed internal LED lights.
Vibration Reduction System
To protect the storage life and quality of your wine, our cabinets have been designed to create a vibration proof environment by including an externally housed compressor, rubber shock absorbers and vibration absorbing wooden shelves.
Quality Air Flow
Our cabinets include internal and external fans to ensure there is a slow reticulated air flow throughout the cabinet
Humidity recycling system
LED Digital Display Panel
Energy Efficient R600a Gas
Winter function for cold climates
Specifications
PRODUCT PROFILE
Main Function

Serve Wide Range of Varietals

Alternate Function

Cellar Reds & Whites

No of Zones

1 or Multi

Temperature Range Zone 1 (deg)

5C - 22C

Temperature Range Zone 2 (deg)

N/A

Temperature Range Zone 3 (deg)

N/A

Door Construction

Double Glazed, UV Treated

Installation Type

Slot-in

DomesticWarrantySG

1

WarrantyExtensionsSG

+12 mths for Vinter Club members

Product Installation

Built-In or Freestanding

Easy Capacity (Bottles)

130

Max Capacity (Bottles)

198

Handle

Brushed Aluminium Bar

Door Type

Glass Door

Finish

Brushed Aluminium
DIMENSIONS & WEIGHT
Height (mm)

1850

Width (mm)

595

Depth (mm)

595

Depth Door Open (mm)

1200

Joinery cut out dimension- minimum h

1940

Joinery cut out dimension- minimum w

630

Joinery cut out dimension- minimum d

625

Air space above cabinet (mm)

90

Air space at sides (mm)

35

Rear Spacer (mm)

30

Weight Loaded

191

Weight Unloaded

90 GET THE LATEST ON VINTEC & MORE