40 Bottle Wine Cabinet
V40DG2EBK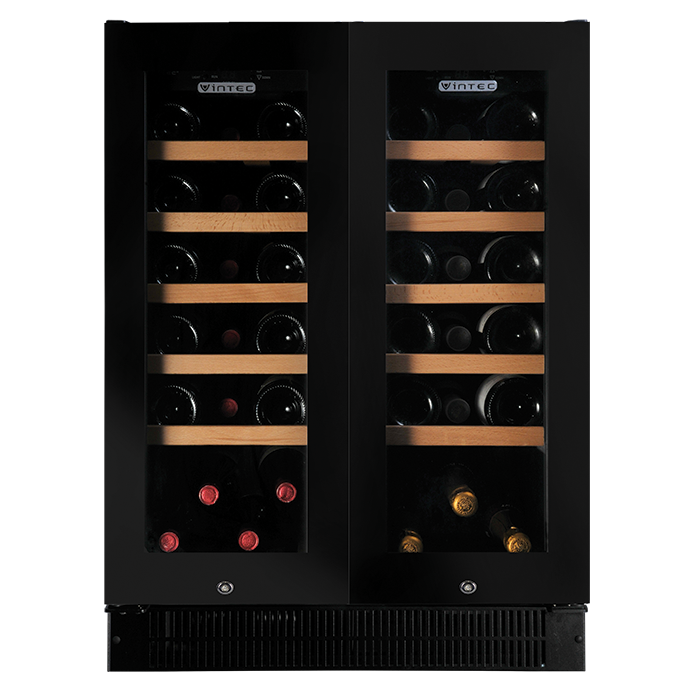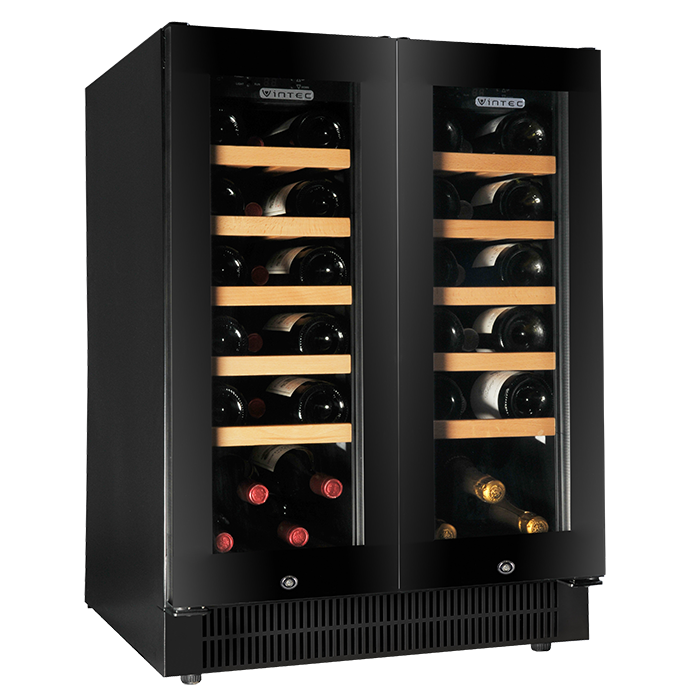 40 Bottle Wine Cabinet
V40DG2EBK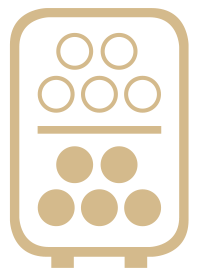 Dual Zone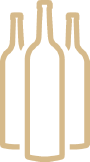 40 bottle* dual zone cellaring & serving wine cabinet with double doors. *based on a Bordeaux shaped bottle
Features & benefits
Two Separate Chambers
Ideal for keeping both reds and whites at perfect drinking temperatures. Set one side compartment at 6 - 8 for white and Champagne, and the other side at 16 - 18 for reds. Alternatively, a compartment can be set at 12 - 14 for cellaring.
Stable Temperature
Our wine cabinets maintain a stable temperature to keep your wine in perfect cellaring conditions. This is thanks to triple glazed glass, insulated side panels and interactions between a compressor and thermostat.
UV Protected Dark Storage Area
UV rays negatively impact the quality of your wine. Our cabinets eliminate this treat by incorporating UV treated tinted glass doors, dark interiors and dimmed internal LED lights.
No Vibration
To protect the storage life and quality of your wine, our cabinets have been designed to create a vibration proof environment by including an externally housed compressor, rubber shock absorbers and vibration absorbing wooden shelves.
Humidity above 50%
Our wine cabinets incorporate a Thermal Recycling Pump that ensures adequate humidity levels are maintained. The Thermal Recycling Pump works by heating condensed water, which is then introduced as humid air within the cabinet.
Triple glazed door, with anti-UV glass
Adjustable wooden shelves
Digital temperature display

Specifications
Finish
Borderless Black Glass
Door Construction
Triple Glazed, UV treated
Fridge door opening
Double
Easy Capacity (Bottles)
36
Max Capacity (Bottles)
40
Main Function
Serve Red or White
Alternate Function
Serve or Cellar
Temperature Range Zone 1 (deg)
6 - 18 Degrees C
Temperature Range Zone 2 (deg)
6 - 18 Degrees C
Air space at sides (mm)
10
Air space above cabinet (mm)
30
Joinery cut out dimension- minimum height (mm)
850
Joinery cut out dimension- minimum width (mm)
615
Joinery cut out dimension- minimum depth (mm)
600
Power Supply
240V / 10AMP
Electricity Consumption (kWh/Day)
1
Ambient Temperature (deg)
5-35
Display Panel
LED Digital Display
Castors and Feet
4 Adjustable Feet
Shelving Type
10 Full, 2 Half
Pack Dimensions Height (mm)
880
Pack Dimension Width (mm)
665
Pack Dimension Depth (mm)
685
Number of rows (Total inc bottom & ½ shelves)
6
Reviews
Rated

5

out of

5
by
BobS
from
Surprise gift
I got given my 40 bottle Vintec for my birthday 6 months ago. What a huge surprise. I promptly set it up, cooled it down, and loaded my favourites. One evening I opened a beautiful Amisfield Pinot from Queenstown and I have to say it tasted as good as it did from their cellar. I can't help but show my vintec off to guests. I am so happy with this gift, and dream of an upgrade to a larger version one day. And then I can hand down this 40 bottle one to my son!!! Empty of course.
Date published: 2018-08-08
Rated

4

out of

5
by
Hound
from
Pretty cool
Happy to say my wine is always at the correct temperature and can now be stored safely in a room that might otherwise be not entirely suitable. It looks classy, too. My only reservation is that some bottle shapes -- including most pinot noir -- are a tight fit, slightly reducing capacity.
Date published: 2018-08-20
Rated

5

out of

5
by
Rustyfm
from
Vintec V40DG2EBK
Bought Wine fridge from App Online and it was a very smooth and easy transaction. Fridge was delivered quickly and the guys delivering where pleasant and friendly. When extension was complete, I unpacked this little beauty and installed. It looks magnificent and runs well, very happy.
Date published: 2016-01-04
Rated

5

out of

5
by
Becsta
from
Perfection!!
Have owned our wine fridge for 2years and it is impeccable. So handy to have our wines, both white and red on hand at the perfect drinking temperature. Quiet operation, great design and sleek aesthetic's. Couldn't be happier with our choice in Vintec.
Date published: 2018-08-08
Rated

5

out of

5
by
ForrestB
from
Great wine fridge
I like having two separate sections to keep easily keep whites and reds at different temperatures. I keep a few cellared bottles In it know they will be perfect when we open them since I have been able to keep them at an idea temperature.
Date published: 2018-08-08
Rated

5

out of

5
by
jramsay
from
Reliable and Accurate
We considered several fridges, however, the dual zone was perfect for our household.. we have equal love of white and red wine, so this fridge was the ultimate solution given the limited space we had allocated for a wine fridge.
Date published: 2018-08-08
Rated

5

out of

5
by
Tambo13
from
Love my Vince cellar
This is the best thing I've done for my wine! It keeps all my special bottles in the one place, and it looks fabulous under the kitchen bench. Reds in one side, whites in the other......brilliant!
Date published: 2018-08-08
Rated

5

out of

5
by
Sernez
from
Great Cellar
Good looking and function - Temperature / Humanity control. It's good for Bordeaux wines but not good for Bigger bottles of Australian wines
Date published: 2018-08-08
Rated

5

out of

5
by
Rusty
from
Excellent Wine Fridge
I have had this wine fridge over 12 mths and it has performed with a hitch, keep wone at the right temperature and looks great
Date published: 2018-08-31
Rated

5

out of

5
by
MickWine
from
Great wine fridge
I received this wine fridge as gift, and I love it. It looks good and is very quiet. I would recommend it.
Date published: 2018-08-08 Subscribe to our newsletter