35 Bottle Single Zone
V30SGME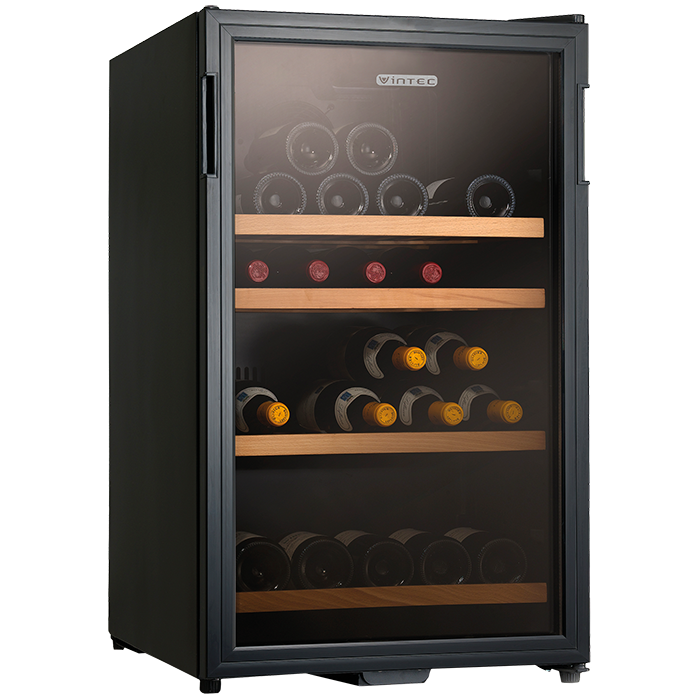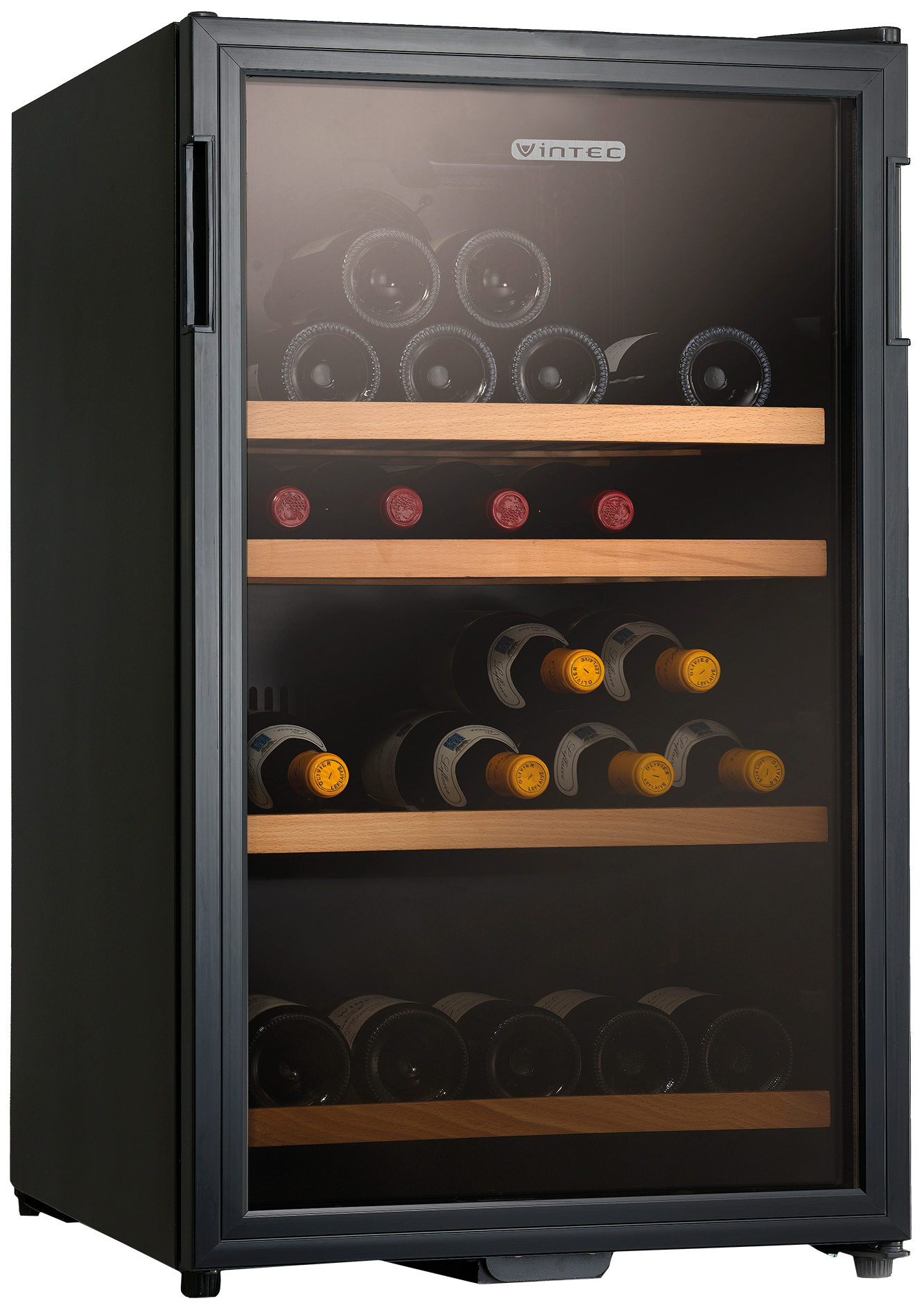 35 Bottle Single Zone
V30SGME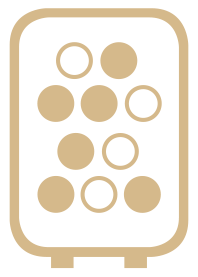 Single Zone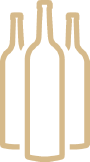 35 bottle* single zone cellaring or serving wine cabinet with a stainless steel finish. *based on a Bordeaux shaped bottle
Features & benefits
Stable Temperature
Our wine cabinets maintain a stable temperature to keep your wine in perfect cellaring conditions. This is thanks to triple glazed glass, insulated side panels and interactions between a compressor and thermostat.
No Vibration
To protect the storage life and quality of your wine, our cabinets have been designed to create a vibration proof environment by including an externally housed compressor, rubber shock absorbers and vibration absorbing wooden shelves.
UV Protected Dark Storage Area
UV rays negatively impact the quality of your wine. Our cabinets eliminate this treat by incorporating UV treated tinted glass doors, dark interiors and dimmed internal LED lights.
Humidity above 50%
Our wine cabinets incorporate a Thermal Recycling Pump that ensures adequate humidity levels are maintained. The Thermal Recycling Pump works by heating condensed water, which is then introduced as humid air within the cabinet.
Triple glazed door, with anti-UV glass
Digital temperature display

Specifications
Installation Type
Freestanding Only
Finish
Seamless Black Finish
Door Construction
Triple Glazed, UV treated
Easy Capacity (Bottles)
28
Max Capacity (Bottles)
35
Main Function
Cellar Red & White
Alternate Function
Serve White or Red
Temperature Range Zone 1 (deg)
6 - 18 Degrees C
Depth Door Open (mm)
1180
Door depth including seal (mm)
50
Power Supply
240V / 10AMP
Electricity Consumption (kWh/Day)
1
Ambient Temperature (deg)
5-35
Display Panel
LED Digital Display
Castors and Feet
4 Adjustable Feet
Shelving Type
3 Full, 1 Half
Pack Dimensions Height (mm)
880
Pack Dimension Width (mm)
552
Pack Dimension Depth (mm)
665
Number of rows (Total inc bottom & ½ shelves)
4
Reviews
Rated

4

out of

5
by
Ian
from
Cheapest way to keep your good stuff safe
Good quality cheap wine fridge. You can fit 38 bottles in a squeeze.
Date published: 2012-06-12
Rated

5

out of

5
by
Puppetzinc
from
Excellent product
I bought this a while ago as a starter fridge to hold my really good bottles. what I found is I actually would use it on rotation for all my wine. It's quiet, keeps a stable temp and looks great. Of course my wine love has grown and now I have a 170 bottle Vintec as well and couldn't be happier. I think they are a well made unit, with easy controls and great styling. I highly recommend this unit to anyone wanting an inexpensive counter wine fridge to store wines in a temp controlled environment, and in Australia I think that's a must. 10/10
Date published: 2018-08-08
Rated

1

out of

5
by
Ed_550
from
Major failures after 2.5 years
$185 call out fee. Evaporator leaking, compressor to be replaced, fan not working. $750 to fix and it is under 3 years old. Customer service tried to up sell to a bigger model. So very disappointed. Expensive wine potentially cooked as thermostat sat at 25 Celsius.
Date published: 2018-12-28
Rated

1

out of

5
by
marble
from
Buy something else
Works well for a short time but it seems that many of these fail just after the warranty runs out. Of the five units that my friends and I bought only one is still working. A common internet issue also. Most commonly it is the condenser which fails because it is (1) too hot in Australia (2) too humid in Qld (3) too dry in an air-conditioned house or too old after 11/2 or two years.
Date published: 2018-01-25
Rated

4

out of

5
by
SLK1
from
My third Vintec fridge
My collection of Vintec fridges now numbers three (two of these 35 bottle, and one 120 bottle version), which speaks to my satisfaction with the product in general. Self humidifying, no real need for any sort of maintenance. Only issue at one time was development of mould, affecting bottle labels and the wood at the back of two shelves, around the centre of the back of the fridge. Made sure to leave a clear gap at the back of the fridge behind the bottles since, and it has not recurred.
Date published: 2018-08-08
Rated

4

out of

5
by
Jules
from
Great product
Purchased a 35btl vintec after hearing good stuff from a friend. Unfortunately the fridge wasnt cooling down to the right temperature. I made a phone call to the vintec team who where very helpful. Within 2 weeks i had a brand new fridge. 3 yrs later and my vintec is still going strong. If your looking for a fridge to cellar your wines for that special occasion or just to store everyday wine look no further. Very impressed. Now to convince my wife to let me upgrade to the 170btl vintec
Date published: 2018-08-08
Rated

5

out of

5
by
DavidG
from
Perfect for the chilled wines
I bought the 35 Bottle Single Zone Vintec as my second Vintec cabinet. The original larger unit is well suited to storing my collection of reds, with the 35 bottle single zone perfect for chilling the whites and sparkling wines. Its a fantastic, highly reliable cabinet which I'd thoroughly recommend.
Date published: 2018-08-14
Rated

5

out of

5
by
Renan
from
5 star hotel for my wines!
I love all my 3 Vintec! They are reliable, quiet, small and bold in design which makes perfect match to any house! Tks Vintec!
Date published: 2018-08-08
Rated

5

out of

5
by
mark_07
from
Simply Fantastic
This the only brand and product I trust to store my vintage wines. I was so happy with the product I bought a second unit and transferred some of my cellar wines for ease of access. The unit has a modern ageless design that is ultra quite and a vibration free motor to ensure my wines get the longevity they deserve to mature. Absolute pleasure to own. Happy Happy Happy!
Date published: 2018-08-08
Rated

5

out of

5
by
Silver Fox
from
Wouldn't Be Without One
My problem is that I drink more wine than I cellar but as I live in Queensland I still have a few bottles I want to look after for those special occasions. I recently invested in a small 35 bottle Vintec wine storage cabinet to help preserve and protect those special bottles. Its a terrific product and one of the things I like best is that the wine is stored at the perfect drinking temperature. My other problem is that I have found the Vintec cabinet so beneficial storing wine that I have filled it and now I need another one!
Date published: 2018-08-13
Accessories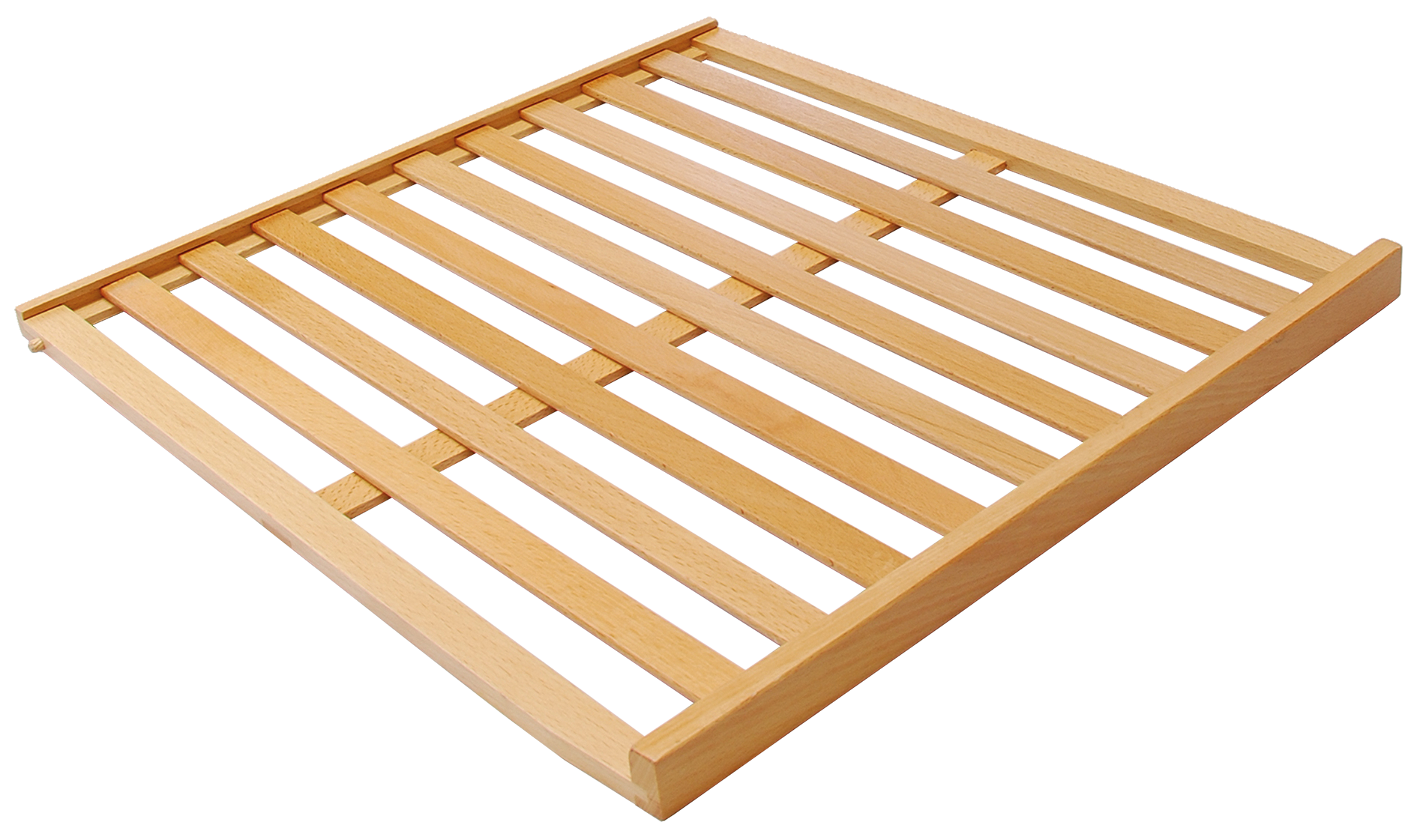 VAS05WA
Wooden storage shelf - V30 wine Subscribe to our newsletter