170 Bottle Wine Cabinet
V190SG2E-BK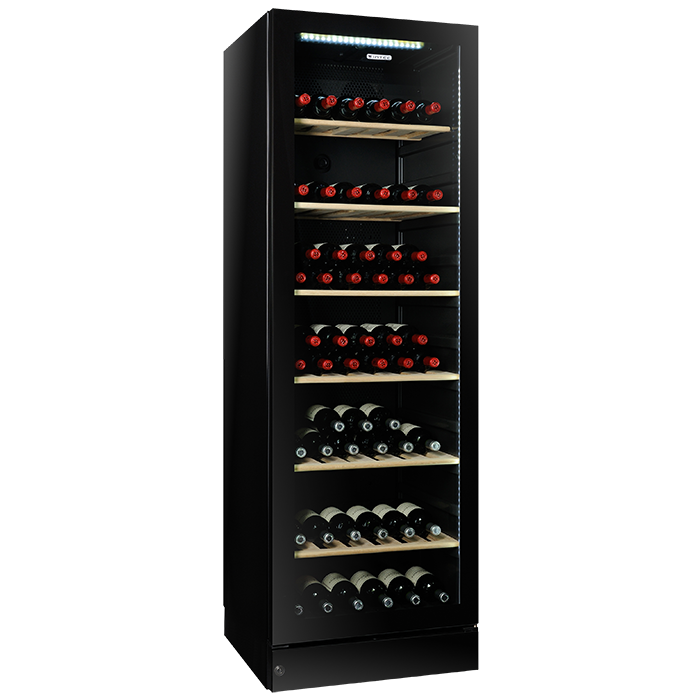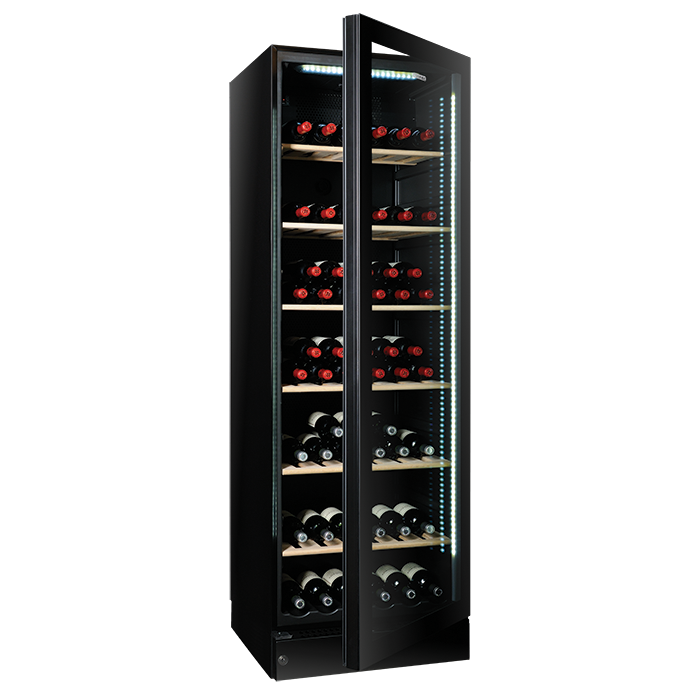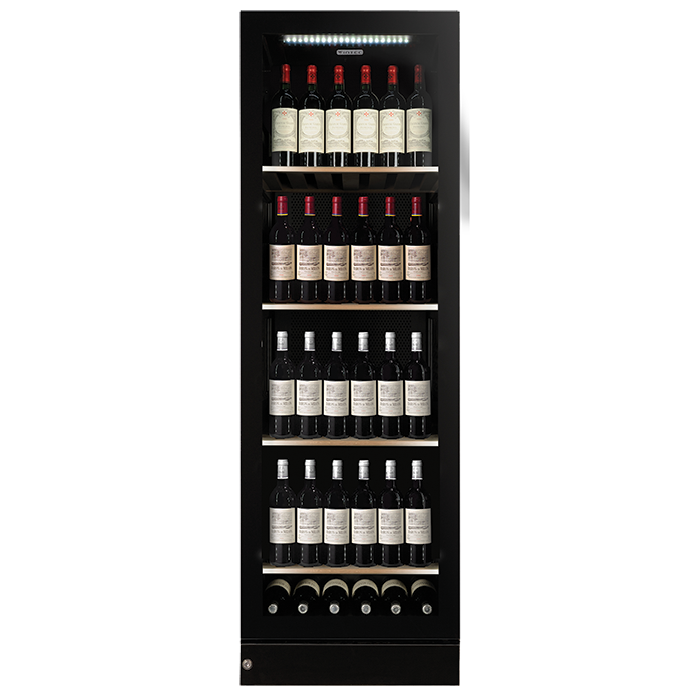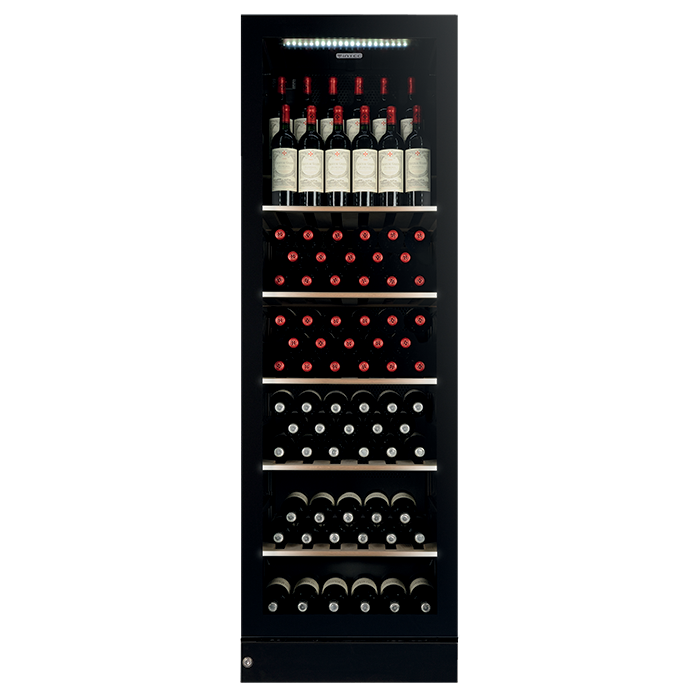 170 Bottle Wine Cabinet
V190SG2E-BK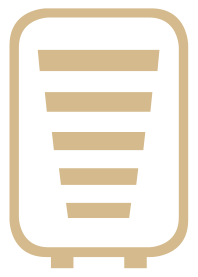 Multi Temp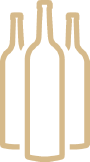 Versatile wine cabinet that can be set as a single zone for cellaring both reds and whites or as multi-temp for serving different styles/varietals at perfect drinking temperatures.
Features & benefits
Multi-Temp
Vintec versatile Multi-Temp technology is designed for serving different varietals at their perfect individual drinking temperatures. It provides a gradient of temperature throughout the cabinet, which is ideal for keeping all wine styles at their optimal drinking temperature.
Stable Temperature
Our wine cabinets maintain a stable temperature to keep your wine in perfect cellaring conditions. This is thanks to double glazed glass, insulated side panels and interactions between a compressor and thermostat.
Winter Heating Function
In some areas, the temperature in winter could drop drastically. Our wine cabinets are equipped with a heating function to deliver a constant temperature through the cellar all year round.
UV Protected Dark Storage Area
UV rays negatively impact the quality of your wine. Our cabinets eliminate this treat by incorporating UV treated tinted glass doors, dark interiors and dimmed internal LED lights.
No Vibration
To protect the storage life and quality of your wine, our cabinets have been designed to create a vibration proof environment by including an externally housed compressor, rubber shock absorbers and vibration absorbing wooden shelves.
Humidity above 50%
Our wine cabinets incorporate a Thermal Recycling Pump that ensures adequate humidity levels are maintained. The Thermal Recycling Pump works by heating condensed water, which is then introduced as humid air within the cabinet.
Double glazed door, with anti-UV glass
Adjustable wooden shelves
Winter function heating system
Digital temperature display

Specifications
Finish
Borderless Black Glass
Door Construction
Double Glazed, UV Treated
Easy Capacity (Bottles)
130
Max Capacity (Bottles)
198
Main Function
Serve Wide Range of Varietals
Alternate Function
Cellar Reds & Whites
Temperature Range Zone 1 (deg)
6 - 22 Degrees C
Depth Door Open (mm)
1200
Air space at sides (mm)
30
Air space above cabinet (mm)
50
Joinery cut out dimension- minimum height (mm)
1910
Joinery cut out dimension- minimum width (mm)
615
Joinery cut out dimension- minimum depth (mm)
630
Door depth including seal (mm)
55
Power Supply
240V / 10AMP
Electricity Consumption (kWh/Day)
1
Ambient Temperature (deg)
5-35
Display Panel
LED Digital Display
Castors and Feet
4 Adjustable Feet
Shelving Type
8 Adjustable
Pack Dimensions Height (mm)
1925
Pack Dimension Width (mm)
635
Pack Dimension Depth (mm)
670
Number of rows (Total inc bottom & ½ shelves)
8
Reviews
Rated

5

out of

5
by
Gedewe
from
Does the job!
About to get our second one to fit on new extension to our wine room. Came recommended from a friend and would definitely recommend this product.
Date published: 2018-04-28
Rated

4

out of

5
by
Tommo
from
Great appearance, sleek design.
Disappointed that in order to store 170 bottles of wine (or near to it) they would have to be stacked on 3 shelves in a vertical position which makes access to the ones at the back of the fridge problematic. As all the illustrations showed the bottles lying down (which looks better and makes access easier) we were expecting to be able to store our wine in that way. The reality is with the 8 shelves in the fridge and bottles stored horizontally you can only store just over 100 bottles.
Date published: 2016-02-29
Rated

5

out of

5
by
James
from
I love it!
I originally bought this as an all in one fix for both my regular drinking reds and white at serving temperature with a bit of cellaring in the middle. I was glad though that it was so easy to change in to a single zone though as I ended up buying so many bulk specials online! Now I'm just waiting for the wines to age so that they taste as good as they look presented in my Vintec! So much cheaper than any of the other european made ones on the market too.
Date published: 2018-07-04
Rated

1

out of

5
by
Kevin
from
Looks great - but unfortunately been a lemon,
Has been repaired a number of times under warranty, now it's just out of warranty and failed again. Companies repair agent now advises can not be repaired. Distributor now offering replacement at third of original retail price but no way in this lifetime I would waste another cent on a Vintec product.. Be warned - I spent thousands on a product I thought would last many years. It simply didn't and I've been hung out to dry by the distributor.
Date published: 2018-07-31
Rated

5

out of

5
by
Simone68
from
Style and Functional
I needed a place to store my wines and did not have my own cellar room. Well now I do. I feel so much better that my wines are now being stored correctly and will not go off. The Vintec fridge is quiet, stylish and fits all my wines. What more could you want. Oh but wait, you can have two different settings if you need. So the functionality of the multi zones or just using for one temp allows this fridge to fit everyones needs.
Date published: 2019-02-20
Rated

5

out of

5
by
JD99
from
Great looking fridge, but beware of the capacity
This is the second Vintec fridge I have owned - the first is much smaller, and has now been designated the champagne and riesling fridge. This new fridge is over double the size, and is an excellent build quality, with the exception of a lock that broke on the first day. This was repaired after 2 weeks wait, however Vintec cancelled 2 appointments so not happy with that. It is operating fine now. The fridge itself has 2 split climate sections - these work well, however I have the fridge set to a single temperature just for long term red cellaring. Shelving system works well, and internal lighting is excellent. Do watch out for that bottle capacity though. I had read up on the inability of people to get anywhere near the number of bottles inside as designated by the brochure - same result for me. There is no chance at all you could get 170 bottles on this unit. Try 120'ish.
Date published: 2017-09-11
Rated

5

out of

5
by
Mark123
from
Storing Wine With Style
Very rarely do things exceed my expectations - but this Vintec cabinet certainly does. It's good looking in pictures but even better in real life and It finishes off our new kitchen with style and finesse. Form, function and design at its best.
Date published: 2018-08-16
Accessories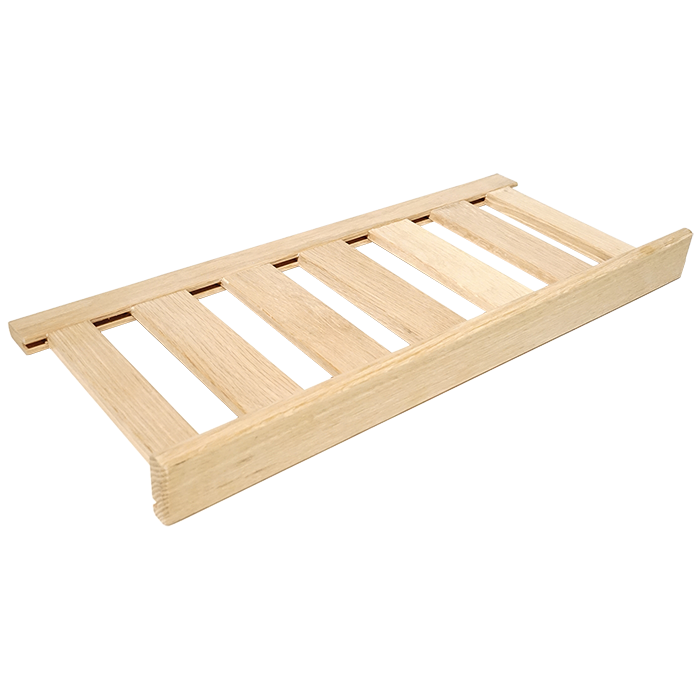 VAS01WA
Wooden display shelf - V150/190 wine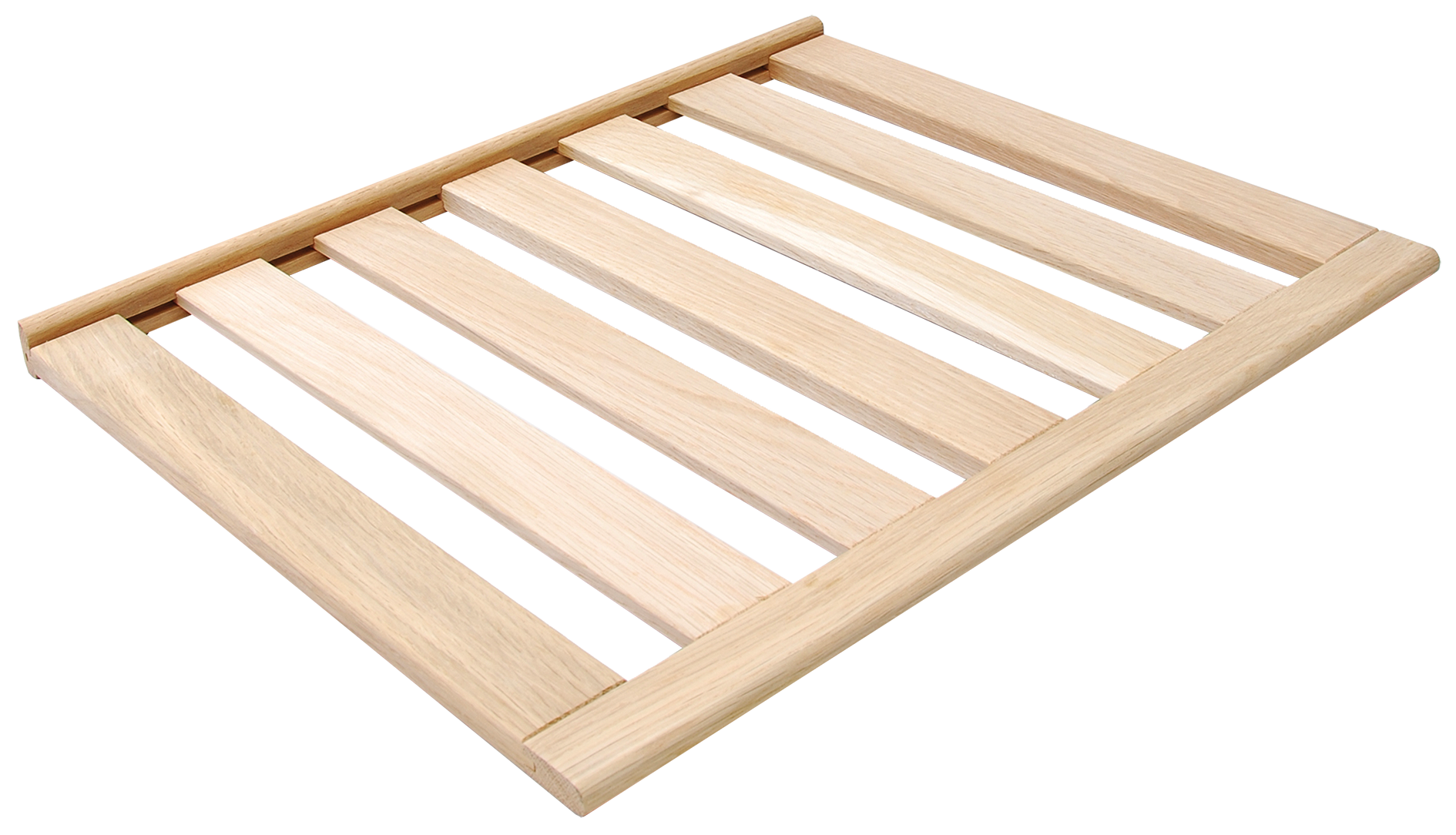 VAS06WA
Wooden storage shelf - V150/190 wine Subscribe to our newsletter