130 Bottle Wine Cabinet
V110SGES3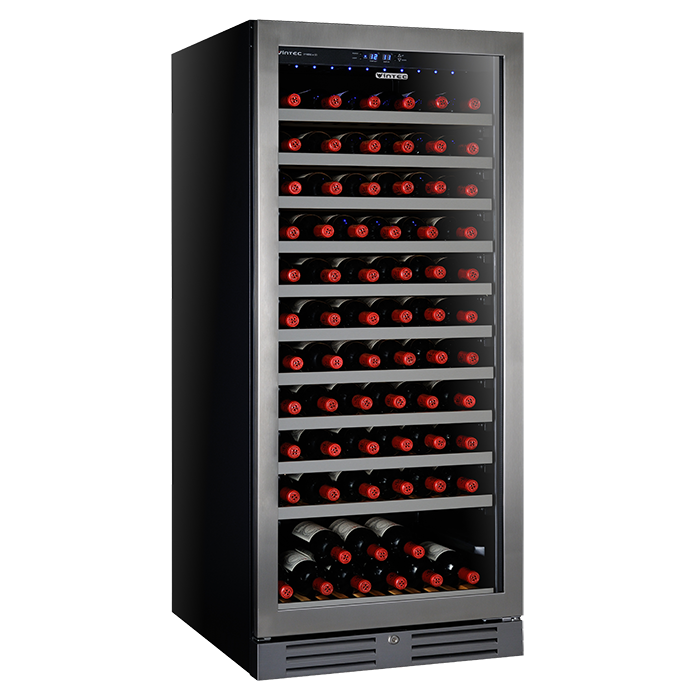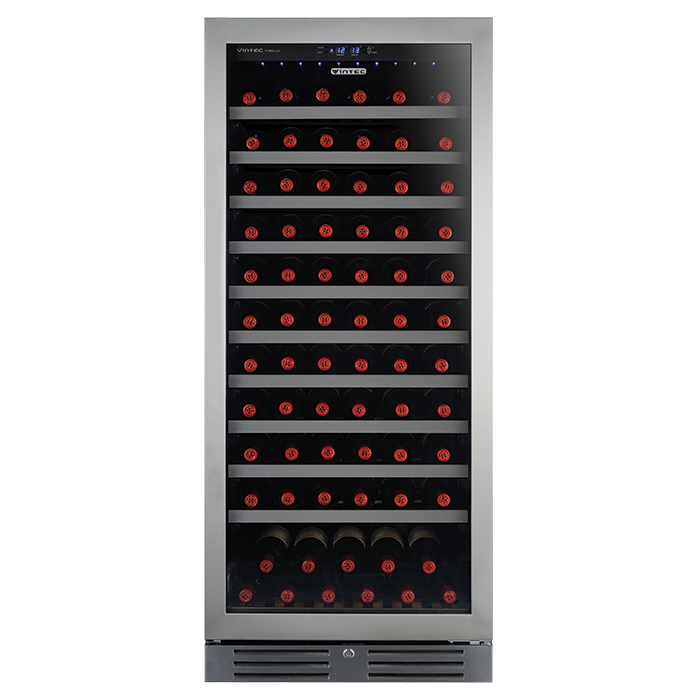 130 Bottle Wine Cabinet
V110SGES3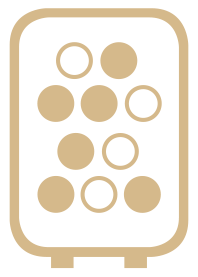 Single Zone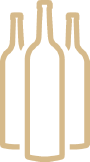 130 bottle* single zone cellaring cabinet for red and white wines. *based on a Bordeaux shaped bottle
Features & benefits
Stable Temperature
Our wine cabinets maintain a stable temperature to keep your wine in perfect cellaring conditions. This is thanks to triple glazed glass, insulated side panels and interactions between a compressor and thermostat.
UV Protected Dark Storage Area
UV rays negatively impact the quality of your wine. Our cabinets eliminate this treat by incorporating UV treated tinted glass doors, dark interiors and dimmed internal LED lights.
No Vibration
To protect the storage life and quality of your wine, our cabinets have been designed to create a vibration proof environment by including an externally housed compressor, rubber shock absorbers and vibration absorbing wooden shelves.
Humidity above 50%
Our wine cabinets incorporate a Thermal Recycling Pump that ensures adequate humidity levels are maintained. The Thermal Recycling Pump works by heating condensed water, which is then introduced as humid air within the cabinet.
Triple glazed door, with anti-UV glass
Winter function heating system
Digital temperature display

Specifications
Finish
Seamless Stainless Steel
Door Construction
Triple Glazed, UV treated
Fridge door opening
Reversible
Easy Capacity (Bottles)
110
Max Capacity (Bottles)
130
Main Function
Cellar Red & White
Alternate Function
Serve White or Red
Temperature Range Zone 1 (deg)
6 - 18 Degrees
Depth Door Open (mm)
1280
Air space at sides (mm)
10
Air space above cabinet (mm)
50
Joinery cut out dimension- minimum height (mm)
1450
Joinery cut out dimension- minimum width (mm)
615
Joinery cut out dimension- minimum depth (mm)
710
Door depth including seal (mm)
50
Power Supply
240V / 10AMP
Electricity Consumption (kWh/Day)
1
Ambient Temperature (deg)
5-35
Display Panel
LED Digital Display
Castors and Feet
4 Adjustable Feet
Shelving Material
Wood with Stainless Steel Front
Shelving Type
10 Sliding, 1 Half
Pack Dimensions Height (mm)
1488
Pack Dimension Width (mm)
650
Pack Dimension Depth (mm)
750
Number of rows (Total inc bottom & ½ shelves)
11
Reviews
Rated

5

out of

5
by
Alex123
from
Sleek and quiet
Having did extensive research into wine fridges it was clear that Vintec was one of the high quality companies and when it comes to storing expensive wines why settle for anything less? It is a matter of size and style in determining which fridge to buy. The V110SGES3 provides ample storage and it silver/black style worked well with our existing decor. The construction is simple, the operation is quiet but everything feels very high quality. If your someone who loves wines and wants somewhere to store their nice bottles so that you don't things to chance, this is the right fridge for you.
Date published: 2018-08-08
Rated

5

out of

5
by
burgo99
from
practical & atractively packeged
We bought this product approximately 12mths ago to replace an existing "smaller" Vintec wine fridge that quite frankly didn't live up to expectations or last anywhere near a product at this price point should. Vintec though in all fairness offered to replace the existing fridge & we opted to update to the larger V110SGES3 paying the extra money on top. In short this fridge is awesome & whilst you still wont fit anywhere near the claimed 110 bottles it suggests are possible, it at least allows us to practically store our red & white wine supply plus champagne, usually in the region of 60-80 bottles in a manner that allows us access to all bottles with minimal effort required. it really does do most of what it claims, plus looks great doing it. Would highly recommend
Date published: 2018-08-13
Rated

5

out of

5
by
Argie
from
So happy I'm thinking of buying a 2nd!
I've been fortunate to have access to good cellaring conditions for many years. Our last home move necessitated branching out to above ground cellaring – and only a suitable wine cabinet would meet that need. The Vintec model purchased has been a revelation, and receives many admiring comments from friends and family. Indeed the addition has been so welcomed, that I'm now looking to purchase a second unit to sit alongside the first! I'm happy, wife is happy, so life is good with Vintec.
Date published: 2018-08-08
Rated

5

out of

5
by
Nasakn
from
Amazing Unit
I have had this for around a year and it's been a great purchase. The unit looks amazing and it's performance has been faultless. Would recommend to anyone considering a high quality wine fridge.
Date published: 2018-08-08
Rated

4

out of

5
by
l33teugg
from
Solid and reliable!
A great unit overall, however does take a little fiddling around to get all the bottles in. Some of the 'fatter' pinot noir bottles do suffer label damage when trying to squeeze them into the narrow shelving. Perhaps overkill, but we keep our celebrity wines in the Vintec unit, despite it being located in an underground cavity underneath our home. A solid unit which maintains temperature and humidity control which give us a peace of mind that our cork wines age consistently.
Date published: 2018-08-08
Rated

5

out of

5
by
Mudlark
from
Unspoiled wine.
I was losing my wine at an alarming rate due to the Queensland heat and wine ignorance when a friend suggested I get a wine fridge.I researched most brands and Vintec stood out amongst them all and I am more than pleased that I did. I had a problem after 2 years and Vintec replaced, delivered and installed a brand new one without question even though my 2 year warranty period had gone over. I don't think you can ask for more than that.I would definitely recommend a Vintec.
Date published: 2018-08-08
Rated

5

out of

5
by
Mikey
from
Automatic I done need to be a brain surgeon to use
I have had the Wine Fridge 6 moths and it is a feature of the house and it's something I have always wanted
Date published: 2018-08-08
Rated

5

out of

5
by
Benico
from
Smart and economical storage
After two years I can report that my Vintec has fully satisfied my requirement for practical,smart,efficient and elegant wine storage after downsizing from our home with an underground cellar to a retirement villa. My wines are more easily stored, reviewed, and selected than ever before! Very low energy consumption unit producing totally stable storage conditions. I am delighted with my Vintec!
Date published: 2018-08-13
Rated

5

out of

5
by
Good one
from
Always good
I am completely satisfied with my Vintec product. The design makes it easy not only to store wine at a set temperature but easy to store and table the variety of wine date cellaring date. The design is also very contemporary and fits well well into our house design. We do have also have 2 older Vintec models and all the above can be said for them.
Date published: 2018-08-09
Rated

5

out of

5
by
Tony Rogers
from
Surpassed Expectations
After speaking to some friends who both recommended Vintec, I replaced a wine fridge that was an ongoing problem trying to get serviced and warranty issues, with a Vintec 110 bottle unit, I have been really pleased with the quality performance and the stylish appearance of the unit that I am going to add 2 more Vintec units in due Course.
Date published: 2018-08-08 Subscribe to our newsletter